Fit for the Clipper / DiMaggio's tomb a work of grace, precision
Carl Nolte, Chronicle Staff Writer
Published 4:00 am PDT, Wednesday, June 16, 1999
Joe DiMaggio has gone to his final resting place, a black granite mausoleum on a fog- shrouded hillside at Holy Cross Cemetery in Colma.
His remains were moved there from a temporary tomb on Friday, three months to the day after his funeral in San Francisco's North Beach. Joe DiMaggio, who was perhaps the greatest baseball player who ever lived, died on March 8 at the age of 84.
"JOSEPH PAUL DiMAGGIO," the inscription says, "NOV. 25 1914-MAR. 8 1999.
"DIGNITY, GRACE AND ELEGANCE PERSONIFIED."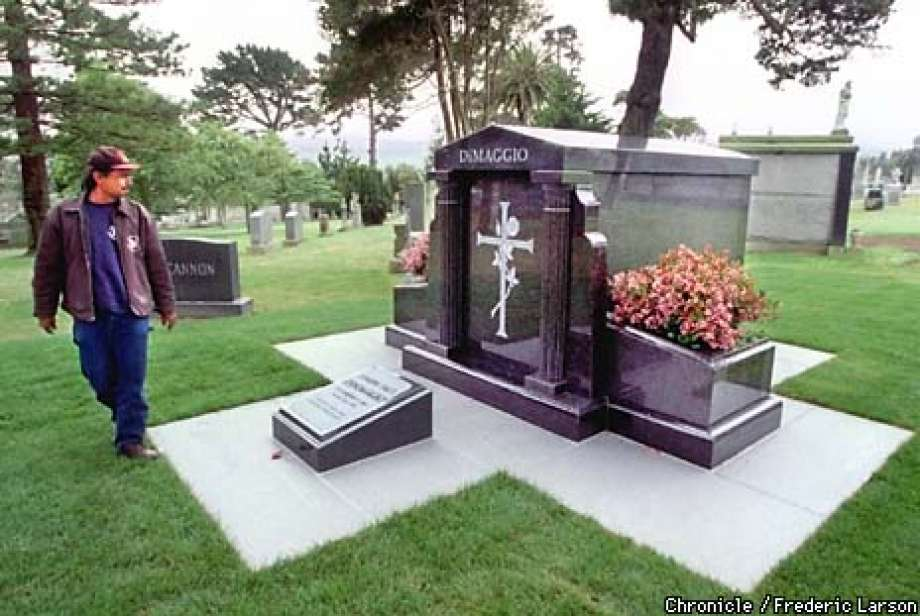 Photo: FREDERIC LARSON
The Yankee Clipper, Joe DiMaggio, finally comes to his finally resting place at Holy Cross cemetery in Colma California. Danny Espiritu (L) who works for American Monument was the stone cutter on the moument. Chronicle photo by Frederic Larson
The DiMaggio family had selected the site, which is about a quarter-mile from the main gate of the Holy Cross Cemetery, up a couple of winding lanes through a city of the dead, and on a small hill so his grave could be seen from the road and visitors could come and pay their respects.
There were no visitors at Joe DiMaggio's grave yesterday afternoon, but someone had left a single rose, its petals damp from the June fog, lying on his grave.
"I don't think a single day has gone by since he has been in the cemetery without someone coming to ask about him," said Katherine Atkinson, director of cemeteries for the Catholic Archdiocese of San Francisco, which owns Holy Cross.
The mausoleum is about six feet high, of granite in a color called "Impala Black" and it comes, Atkinson said, from the Cold Springs Granite Co. in Cold Springs, Minn.
It was designed by Chris Vierhaus of the American Monument Co. in Colma. Vierhaus had worked so hard on the project, he has taken a few days off, Atkinson said.
However, Danny Espiritu, a 47- year-old stonecutter who cut Joe DiMaggio's name and the inscription on the granite, was there yesterday to look at his work.
Espiritu also carved an elaborate cross entwined by a rose that is the only other artwork on the black granite. The work is careful, precise and graceful, and Espiritu said yesterday he is proud of it.
Espiritu said he never saw Joe DiMaggio play, except on old television or film clips, but he admired him nonetheless. "He deserves everything we could do," he said.
He had been working on cemetery stones for 15 years, and has only done one for another person as famous. That, he said, is the tombstone of Wyatt Earp, the Western lawman who lived in Daly City, and was buried in the Hills of Eternity in Colma. Earp died many years ago, but his tombstone was vandalized. Espiritu was selected to do the carving of a new one.
He is one of a group of craftspeople who work in the funerary industry in Colma, a city of only 1,100, where the dead far outnumber the living. In Holy Cross alone, there are 343,000 graves, some dating back to 1887.
Joe DiMaggio's last resting place is in Section I of the cemetery, the oldest section, near a portion reserved for the graves of the clergy. Not far away is Governor's Row, which contains the remains of many former governors of California, among them Edmund G. Brown Sr.
The mausoleum of Joe DiMaggio is not far from the grave of Peter C. Yorke, the Irish patriot and priest, and very near to the mausoleum of the de Young family, founders of The Chronicle.
Espiritu was asked how long the gleaming black granite monument to the Yankee Clipper might last. "Forever," he said.