American Monumental Company is a family owned and operated business. We provide the Bay Area with the highest quality memorial products, and have for more than 75 years. American Monumental is an exceptional business because we are one of the few monument companies that still create our work entirely on-site. From designing to stone cutting, polishing and engraving, we oversee every aspect of the project personally.

The Vierhaus family tradition as skilled craftsmen comes from Josef Vierhaus, a European master stone carver, who joined the monument industry when in 1962 he came to California from Germany. Josef's son, Chris now heads the family and the business – and Chris continues the traditions he learned from his father.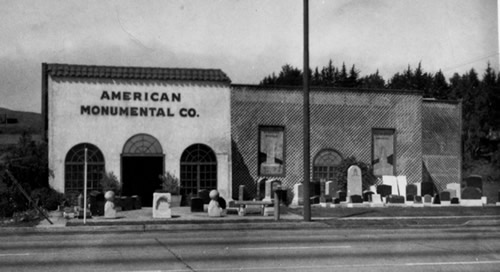 Our family brings exquisite artistry and craftsmanship to every memorial we create. American Monumental Company memorials are extraordinary because we create a tribute as unique as the person it honors. We treat every project like a work of art and ensure that the highest quality craftsmanship goes into everything that leaves our workshops.
Some of our projects include the monument of Wyatt Earp and the mausoleums of Joe DiMaggio and Rhoda Goldman, the late scion of the Levi Strauss family. While your family may not be as well known, we guarantee that you will be treated with the respect, kindness and attention you deserve during such an important process.
Much of our business comes from previous customers' recommendations based on the quality of our work and our reputation for personalized care. American Monumental Company provides only the finest hand-crafted memorials along with the utmost in customer care. Our family will guide and support you because, as a family, we know there are few things more important when commemorating a life than creating a lasting and beautiful tribute.
We invite you to call or email our office to help you begin the process of choosing a memorial, or simply to answer any questions you may have. We can usually provide you with a detailed quote once a few details have been provided.
We understand that people live busy lives. Our office is open 7 days a week for your convenience. Appointments are not necessary, however, we would be glad to set aside a specific time for your family to meet if you would like.